Welcome to our website.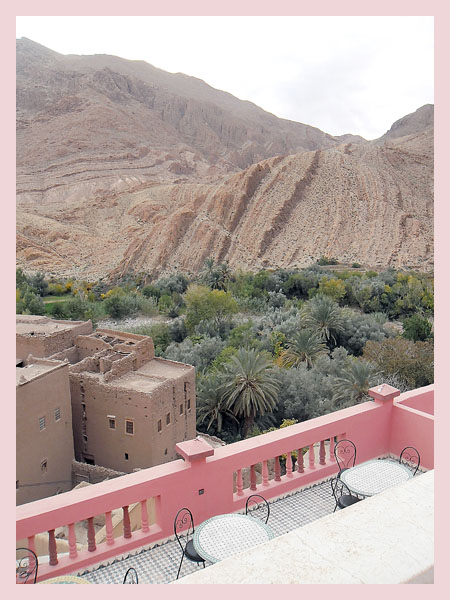 La Fleur guest house is located near the entrance to the Todra Gorge, about a 5-minute walk away.
You can go to the valley.
It is said that the Todra Gorge is a sacred place for climbing.
escalation.
And you can wash in the river like the women of this village. In summer you can also swim with the children in the stone dam river.
It is a high plateau of 1500 meters, so it is easy to pass there in summer.
From mid-January to mid-February, almond blossoms resembling cherry blossoms bloom, turning the field white.
From there it takes about 2 hours and 30 minutes by car to get to Ymirsil where the legendary lake is located.
I can go.
From the terrace of the hostel you can see rocky mountains, fields and rivers. Look at the stars in summer
You can sleep on the terrace.
It is equipped with WIFI.
◆ Accommodation rates (breakfast included):
・Private room with shower and WC: 230 dh for a single person
・Private room with shower and toilet   420dh for two people staying
・Private room with shower and toilet  600 dh for 3 people staying
◆ Optional
· Escalation
Three 30m or four 20m with monitors.
Price: 280 dhs
· Trek
We will walk for about 4 hours in the mountains of the valley. Lunch at Nomade, see life and descend the mountain.
Price: 200 dhs
You can also spend the night in a nomadic tent.
Guide, evening and breakfast included
Price: 500 dhs
For further details, please ask the hostel.
◆Transportation to the hostel
Tinerir in Marrakech
SUPRATOURS Bus Departure at 8.30 a.m. Arrival at 3.30 p.m.
Merzouga to Tinerir
SUPRATOURS Bus Departure at 08:00 a.m. Arrival at 12:00 p.m.
There are private buses from Fez.
From Tinerir to the Inn
There are large taxis or minibuses.
There is a new Grand Taxi and Minibus stop behind the post office in Tinerir. There are departures for Todra. The charge is 8dh per person at the hostel when 6 people gather.
The innkeeper can pick you up from Tinerir.
We are waiting for you.
.